One-of-a-Kind! Not Sold In Stores Anywhere!
And For A Limited Time Only - Free Shipping

Rated by 1000's of Customers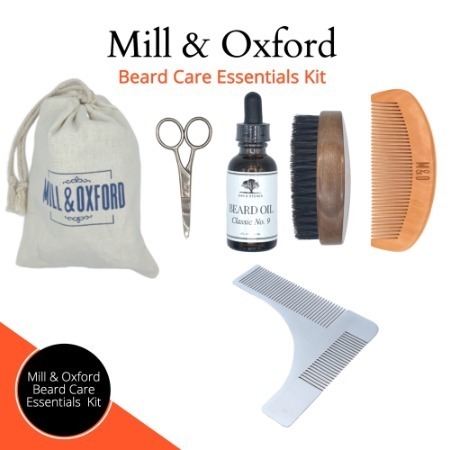 Mill & Oxford presents the...
MO - Essentials Beard Care Kit
$49.97 On Sale Now: Just $24.97!
Get It While Supplies Last!


The Tools That You Need
Hey, this is Dwayne... So, I have a question for you...
How would you like to grab the tools that you need to groom and maintain your beard with ease... at an affordable price? All with free shipping included!
That's why you're going to love this exclusive offer I have for you. These tools will help you maintain and groom your beard so that your beard will stay looking sharp, healthy and clean.. And it'll help you do that easily.
Now normally this offer have sold in the past for $49, but today, you're getting a huge $25 discount!
What's included in this limited special offer today?
In this kit you'll get a handmade beard brush, beard comb, a 1oz bottle of organic beard oil, rounded stainless steel scissors, a beard shaping tool and a travel bag. All of which are designed and created to help you maintain your beard on the go or at home. Bottom line? These are the essentials that you need.
So, let me tell you more about this kit... You're going to love it because you get:
Mapel Wood Beard Brush - Handmade from 100% all natural boar bristles and wood, the bristles of this brush are firm just enough to help lay down the toughest beards, but not too rough on your face.
Crafted from 100% all natural pear wood, refined and polished with strong teeth. Pear wood is durable and has no noticeable scent.This beard comb is the perfect size to fit in your back pocket and is great for grooming and natural oil distribution.
Made from all-natural ingredients that were handcrafted and blended to absorb into your skin and beard to help moisturize and restore the elasticity and bring your beard back to life.
These sharp scissors are made from stainless steel, compact and designed specifically for trimming and maintaining your beard or mustache. It features a safety round headed design so that you don't nick or cut your skin. Also, they are great for keeping that nose and ear hair in check!
Practical, simple and fast, the Beard Shaping Tool beard styling comb is made of stainless steel, which makes it very durable. It features two combs (one dense-toothed comb and a second comb with teeth that are further spread apart). It is designed to be ultra-thin and compact (1mm in thickness, 10cm in length).
Perfect for travel and convenience. Keep everything together. All combined to make the perfect gift for yourself, dad, brother or anyone you know that Luv's to take care of the beard.
It's the perfect present for a Birthday Gift, Anniversary Gift, Fathers Day Gift, Graduation Gift or for any Beardsman that you know. Or just purchase it for yourself!
For a limited time only... Grab FREE shipping,
All you have to do is click the button below right now that says, "Get It While Supplies Last!" Once you click that button below you will be taken to our secure check out form where you can finalize your order. Your order will be place and will be shipped out the next business day. In some cases the same day! Don't miss out on this exclusive offer.
With these tools, you'll be able to easily trim your beard when needed, maintain healthy skin, and groom that manly beard of yours.
Order Your Beard Care Essentials Kit TODAY For
Just
$24.97!
(Save $25)
Get It While Supplies Last!